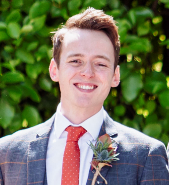 Scott Wilson-Evans
National Communications Manager (EDQDF)
Aneurin Bevan University Health Board
About Me
National Communications Manager (EDQDF)
Scott has worked with the EDQDF programme since 2019 as a Communications Consultant. After his successful national #StillHereForYou campaign during the first Covid-19 lockdown he was appointed on a full-time basis in 2020 as National Communications Manager, to drive the communications strategy for the Unscheduled Care Programme.
Scott has a diverse background in leading teams to drive behaviour change campaigns across a variety of industry's including Emergency Services, Health, Government, Adoption and Fostering as well as the commercial sector. Well versed in a variety of media Scott is no stranger to TV, press and digital communications, if there is a message to push out Scott will ensure it resonates to the right audience to create the impact needed.
Scott leads the communication strategy across a variety of projects within the unscheduled care programme including the Emergency Department Quality & Delivery Framework (EDQDF), Welsh Access Model (WAM) and National Contact First.
He has built relationships across health boards, Welsh Government and wider stakeholders to create an extensive network of communications specialists within emergency health care. As part of this work Scott formed the Behaviour Change Communications and Marketing (BCM) group which consists of local representative across Wales, to shape the national communications for a variety of behaviour change campaigns, this ensures we lead communications for Wales from the ground up.
As an independent body between Welsh Government and NHS Wales Scott aims to provide impartial communications consultancy to a variety of local and national programmes.
One of Scott's key visions is to ensure that communications published can be understood by a variety of audiences regardless of their relation to health care. This was demonstrated in Scott's recent campaign for the launch of the new Emergency Department Measures, with a multi message approach ensuring that both internal and external communications landed with the correct audience.
Scott is also working with health boards to develop communications strategies for their local '111/Contact First' programmes alongside developing the national communications plan.
Key Projects / Campaigns:
#StillHereForYou Emergency Department Campaign 2019

EDQDF Programme

National 111/Contact First

Emergency Departments Experimental Measures Implementation

Covid Vaccinations Media Roll Out for Wales

Re-Defining the use of 'Urgent' & 'Emergency' across local and national communications to drive behaviour change