Welsh Access Model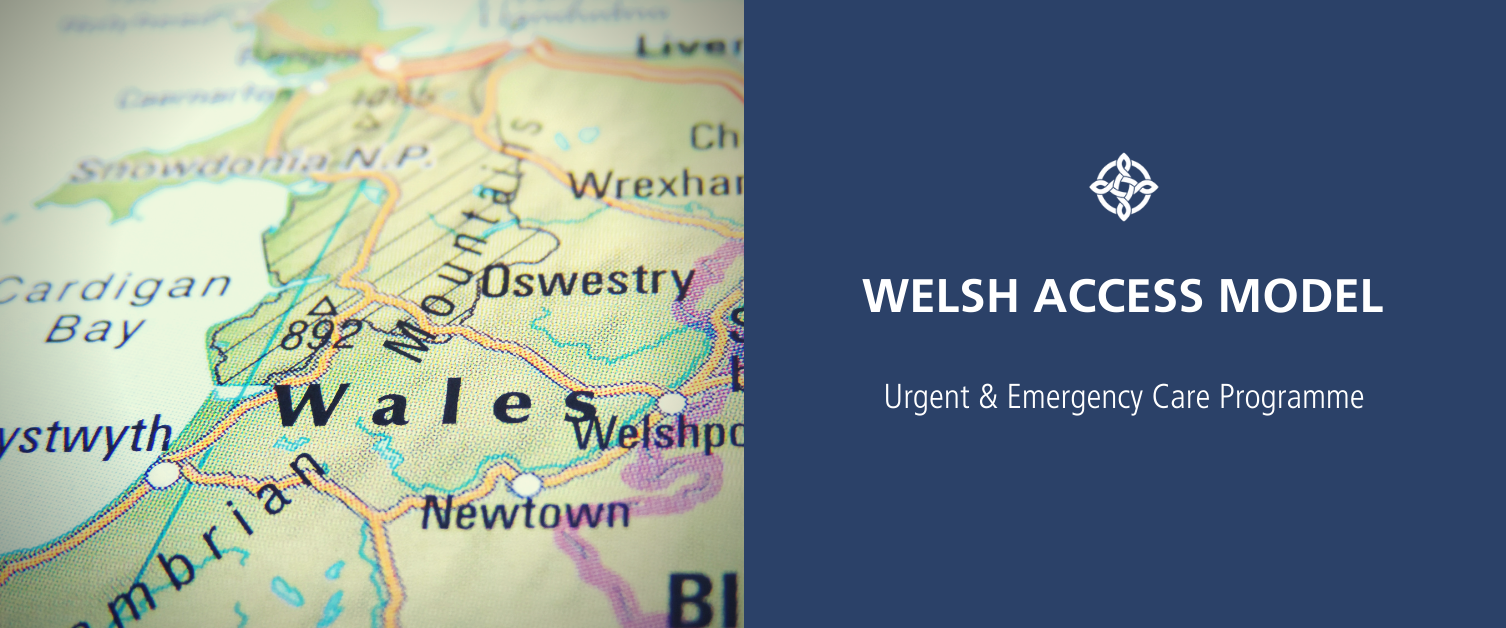 The Development of the Welsh Access Model from 'The Ground Up'
Between December 2019 and January 2020 the Emergency Department Quality and Delivery Framework (EDQDF) programme had hosted a series of workshops attended by clinicians and other staff related to the delivery of emergency care. The purpose of these events was to explore two of the Pathway Improvement Projects namely: 2C Handover and 2D POETH/ Triage.
This series of workshops asked participants to map out the patient journey on arrival, which might be different depending on whether they self-present, arrive by ambulance, or are referred to the emergency department by another service. This exercise teased out some of the main problems for emergency departments – like overcrowding, and triage nurses being required to perform too many duties.
Participants were also asked to map out the ideal patient journey – 'What good looks like for Emergency Departments'. By February 2020, prior to the outbreak of the coronavirus, the EDQDF programme had produced a proposed model of Emergency Care:

The outbreak of the novel coronavirus at the beginning of the year led to a reassessment of this model, and the programme leads returned to their work to consider how it could be adapted to respond to the Covid-19 crisis by providing the public with access to clinical support while managing the flow into departments. Covid-19 meant that the problem of overcrowding was felt even more.
Development of the Welsh Access Model
Developing and further integrating the relationship between 111/ NHS direct services and emergency departments was decided upon as a way to manage social distancing while also providing patient-centred care. This led to the first iteration of what is known as the Welsh Access Model/ WAM: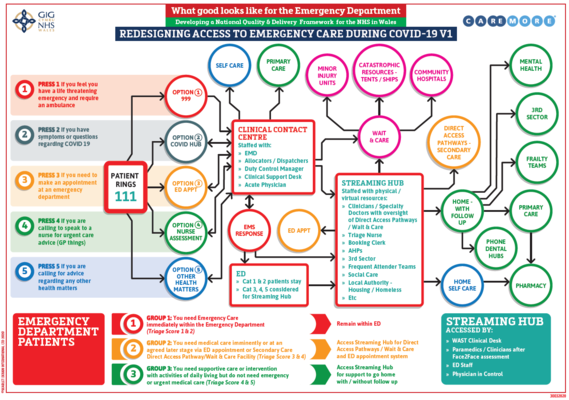 Both models incorporate the "Streaming Hub" concept, though this was originally located in the emergency department, in the Welsh Access Model this would also be accessed via a phone first service, e.g. 111.
The Welsh Access Model is a "phone first" system of care for emergencies and is influenced by the Danish style of emergency care. Its three innovative features can be loosely described as follows:
"Contact First" system, which allows patients to book appointments for care which is urgent but not life threatening; it would be clinically staffed and patients would be streamed to specialties after a telephone triage.
"Streaming Hub" through which patients will be directed to appropriate hospital, primary or community services based on a telephone triage, thereby bypassing the need to present at the emergency department. If accessing this service via 111, or after triage/assessment within ed, enabling patients to access alternative pathways/treatment options
"Wait and Care" system, described as a facility to provide care and support to those patients who require hospitalisation but do not require immediate medical or surgical intervention.
In July 2020, the Minister for Health and Social Care in Wales announced a redesign of emergency care; the Welsh Access Model constitutes the new model of care which will be implemented across Wales.
*It should be noted that the Welsh Access Model is in its developmental phase, and the above definitions are subject change based on continued evaluation and clinical engagement.