The National Collaborative Commissioning Unit (NCCU)
The NCCU, hosted by Cwm Taf Morgannwg University Health Board) is the collaborative commissioning service of NHS Wales. Our vision is: "Leading quality assurance and improvement for NHS Wales through collaborative commissioning" and we deliver national commissioning programmes on behalf of a wide range of customers. Our work is focused on the needs of all citizens of Wales, regardless of background, and we are proud supporters of equality, diversity, cultural competence and awareness.
Latest News
The National Collaborative Commissioning Unit achieves Diverse Cymru's Black Asian and Minority Ethnic Cultural Competence Silver+ Award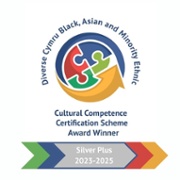 The National Collaborative Commissioning Unit (NCCU) and Emergency Ambulance Services Committee (EASC) Teams have been awarded the BAME Cultural Competence Scheme Silver+ certification award by Diverse Cymru.
The award recognises the team's support and commitment towards ensuring the NCCU / EASC becomes a culturally competent employer and ensuring our workplace is fair and equitable for those from BAME communities.
Shane Mills (Clinical Director) and Sanjeev Mahapatra (Head of Operations) accepted the award on behalf of the NCCU/EASC teams at the Cultural Competency Scheme Awards held on Monday 2 September 2023.
Diverse Cymru's Cultural Competence Certification Scheme is an award-winning workplace development tool to help organisations implement good workplace practice, ensuring services are fair and equitable for Black, Asian and Minority Ethnic people in Wales.
We recognise that English or Welsh may not be a first language for you. If you require any information from this website in a different language please contact us directly